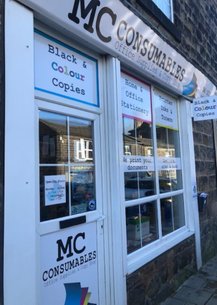 Established in the year 2000, Michelle is just as committed to her business now as the first time she opened the door!
Having worked for a national, well-known computer supplies and stationery chain for around 10 years, Michelle knew she was taking a chance in going it alone, but after completing a six week course with the Enterprise Council in Bradford, she felt confident enough to seek out suitable premises.
Horsforth Town Street proved the perfect choice! The shop's
location on this busy street means a steady stream of passing
footfall, and lots of lovely regular customers from the nearby
houses, businesses and schools.
Michelle and her staff are always happy to offer advice and lend
a hand whenever possible, and the shop prides itself on its
friendly personal service.
And - as it says on the back of our door - we really DO thank you for shopping local!